Kitchen Hygiene
easy made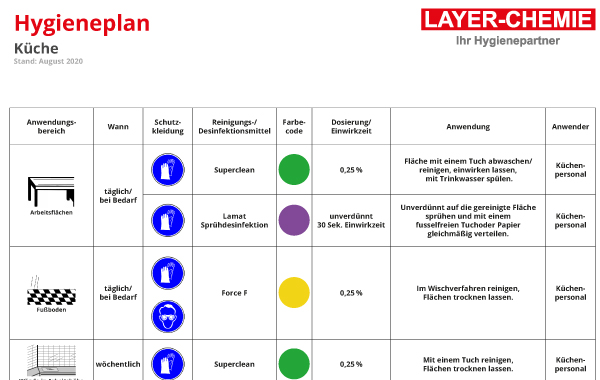 Production and preparation of food are subject to high hygiene standards. The businessmen bear special responsibility opposite consumers. They have to take care that sanitary risks which can occur through food consumption are minimised in the best possible way.
Food manufacturers have to strictly adhere to regulations of food hygiene to produce food under hygienic terms. To achieve this it is necessary to meet standards of personal as well as of company hygiene. These include beside general cleaning and disinfection tasks also compliance with hygienic demands for commercial dishwashers.
Products for kitchen hygiene must be effective, safe and easy to use. We offer our customers and partners a practical and logical product range for better hygiene safety in the kitchen.
Please don't hesitate to contact us… We would be glad to assist you!
Phone +49-7131-9098-222 – Fax +49-7131-9098-60 – verkauf@layer-chemie.de
Service Portfolio
Material Safety Data Sheets
Workshops (link to catalogue in German language)
General Catalogue (link to catalogue in German language)
learn more